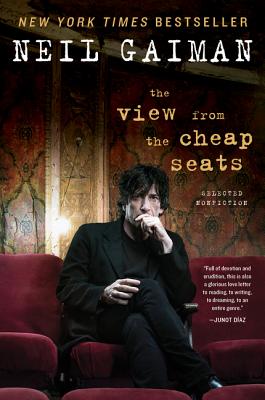 The View from the Cheap Seats: Selected Nonfiction
Publication Date:
May 16th, 2017
Publisher:
William Morrow Paperbacks
Usually Ships in 1 to 5 Days
I must be one of the few people to love Neil Gaiman most for his nonfiction. Over the years, I've scoured the shelves and online for his speeches, his introductions, his forewords, even his tweets and blog posts, so this book is a thing of wonder. Filled to bursting with his humor, wisdom, and hope, all articulated in the thoughtful, generous prose we know and love, The View From the Cheap Seats will keep you company, give you solace, and help you think deeper, smile harder, and breathe easier.
June 2016 Indie Next List
Description
An enthralling collection of nonfiction essays on a myriad of topics—from art and artists to dreams, myths, and memories—observed in #1 New York Times bestselling author Neil Gaiman's probing, amusing, and distinctive style.
An inquisitive observer, thoughtful commentator, and assiduous craftsman, Neil Gaiman has long been celebrated for the sharp intellect and startling imagination that informs his bestselling fiction. Now, The View from the Cheap Seats brings together for the first time ever more than sixty pieces of his outstanding nonfiction. Analytical yet playful, erudite yet accessible, this cornucopia explores a broad range of interests and topics, including (but not limited to): authors past and present; music; storytelling; comics; bookshops; travel; fairy tales; America; inspiration; libraries; ghosts; and the title piece, at turns touching and self-deprecating, which recounts the author's experiences at the 2010 Academy Awards in Hollywood.
Insightful, incisive, witty, and wise, The View from the Cheap Seats explores the issues and subjects that matter most to Neil Gaiman—offering a glimpse into the head and heart of one of the most acclaimed, beloved, and influential artists of our time.
Praise for The View from the Cheap Seats: Selected Nonfiction
"Gaiman's prose reveals the relaxed intimacy of a cherished dinner partner and never loses sight of the big picture. . . . Highly recommended for readers of Gaiman's work, specifically, and sf and fantasy generally, as well as those interested in cultural criticism and the art and craft of writing." — Library Journal (starred review) on THE VIEW FROM THE CHEAP SEATS
"Full of devotion and erudition, this is also a glorious love-letter to reading, to writing, to dreaming, to an entire genre." — Junot Díaz, Pulitzer Prize-winning author of THE BRIEF WONDROUS LIFE OF OSCAR WAO on THE VIEW FROM THE CHEAP SEATS
"If this book came to you during a despairing night, by dawn you would believe in ideas and hope and humans again. This is a beautiful, beautiful book." — Caitlin Moran, journalist and New York Times bestselling author of How to Build a Girl