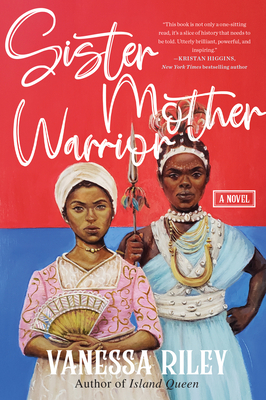 Sister Mother Warrior: A Novel
Publication Date:
June 20th, 2023
Publisher:
William Morrow Paperbacks
Usually Ships in 1 to 5 Days
Description
ONE OF USA TODAY'S "BEST BOOKS OF SUMMER!"
Acclaimed author of Island Queen Vanessa Riley brings readers a vivid, sweeping novel of the Haitian Revolution based on the true-life stories of two extraordinary women: the first Empress of Haiti, Marie-Claire Bonheur, and Gran Toya, a West African-born warrior who helped lead the rebellion that drove out the French and freed the enslaved people of Haiti. 
"This book is not only a one-sitting read, it's a slice of history that needs to be told. Utterly brilliant, powerful, and inspiring."—Kristan Higgins, New York Times bestselling author of Always the Last to Know
"An impeccably researched, powerfully reimagined tale of sacrifice and success, love and selfishness, and war and independence...Riley's storytelling skills shine."—Atlanta Journal-Constitution
Gran Toya: Born in West Africa, Abdaraya Toya was one of the legendary minos—women called "Dahomeyan Amazons" by the Europeans—who were specially chosen female warriors consecrated to the King of Dahomey. Betrayed by an enemy, kidnapped, and sold into slavery, Toya wound up in the French colony of Saint Domingue, where she became a force to be reckoned with on its sugar plantations: a healer and an authority figure among the enslaved. Among the motherless children she helped raise was a man who would become the revolutionary Jean-Jacques Dessalines. When the enslaved people rose up, Toya, ever the warrior, was at the forefront of the rebellion that changed the course of history.
Marie-Claire: A free woman of color, Marie-Claire Bonheur was raised in an air of privilege and security because of her wealthy white grandfather. With a passion for charitable work, she grew up looking for ways to help those oppressed by a society steeped in racial and economic injustices. Falling in love with Jean-Jacques Dessalines, an enslaved man, was never the plan, yet their paths continued to cross and intertwine, and despite a marriage of convenience to a Frenchman, she and Dessalines had several children.
When war breaks out on Saint Domingue, pitting the French, Spanish, and enslaved people against one another in turn, Marie-Claire and Toya finally meet, and despite their deep differences, they both play pivotal roles in the revolution that will eventually lead to full independence for Haiti and its people.
Both an emotionally palpable love story and a detail-rich historical novel, Sister Mother Warrior tells the often-overlooked history of the most successful Black uprising in history. Riley celebrates the tremendous courage and resilience of the revolutionaries, and the formidable strength and intelligence of Toya, Marie-Claire, and the countless other women who fought for freedom. 
"A riveting read! Richly imagined, meticulously researched, and fast-paced…Vanessa Riley encourages us to rethink history through fresh eyes." — Myriam J. A. Chancy, author of What Storm, What Thunder
Praise for Sister Mother Warrior: A Novel
"An impeccably researched, powerfully reimagined tale of sacrifice and success, love and selfishness, and war and independence...Riley's storytelling skills shine." — Atlanta Journal-Constitution
"Sweeping, powerful...Riley has written a well-researched gripping novel about an enslaved people gaining freedom, with the emotional connections among the main players as its beating heart." — Library Journal (starred review)
"A riveting read! Richly imagined, meticulously researched, and fast-paced…Vanessa Riley encourages us to rethink history through fresh eyes." — Myriam J. A. Chancy, author of What Storm, What Thunder
"Thrilling and utterly engrossing...Riley's prose is breathlessly beautiful, the lines clean and vibrant, her images raw and real. A gripping animation of the first successful Black-led democracy in the West as well as a moving exploration of loyalty, passion, and grief, this book sears itself on the consciousness. Highly recommended." — Historical Novel Society
"A gripping tale celebrating the strength and resilience of exceptional Black women...emotionally rich, deeply detailed, and unforgettable." — Booklist
"This book is not only a one-sitting read, it's a slice of history that needs to be told. Utterly brilliant, powerful, and inspiring." — Kristan Higgins, New York Times bestselling author of Always the Last to Know
"Riveting and transformative…evocative and immersive...by turns vibrant and bold and wise…discovering Dorothy's story is a singular pleasure." — New York Times Book Review (Editors' Choice) on Island Queen
"Dazzling...compelling...Riley combines in-depth research with passionate and frank storytelling, The experiences and achievements of powerful women, especially those whose lives began among the enslaved, are too often overlooked, and Riley's richly engaging novel is a ringing reminder of how much we miss when these stories remain untold." — Booklist on Island Queen
"Richly detailed, vividly depicted, and sweeping in scope, Island Queen is historical fiction at its absolute finest. A stunning must-read!" — Chanel Cleeton, New York Times bestselling author of The Most Beautiful Girl in Cuba
"Island Queen is the magnificently reconstructed life story of Dorothy 'Doll' Kirwan Thomas, whose fascinating legacy of grit and success desperately deserves to be better known. With lush prose and raw emotion, Riley vividly captures the complexity of bringing to life a time of rebellion and possibility." — New York Times and USA Today bestselling author Stephanie Dray
"Island Queen is what you would get if you were to drop Olivia Pope and all the men who lusted after her into the 18th Century Caribbean. . . With prose that reads like poetry, Vanessa Riley expertly steers the reader through Dolly's heartbreaking lows all the way into her triumphant emergence as the richest free woman of color in the islands. Passionate, headstrong, and loyal, Riley's version of the real-life Dorothy Kirwan Thomas legend will make readers fall in love with this overlooked "hidden" queen. — Kaia Alderson, author of Sisters in Arms 
"Riley…delivers a spirited narrative of an enslaved woman turned Caribbean power broker, based on a historical figure…Riley has made a fascinating character out of Dorothy." — Publishers Weekly on Island Queen