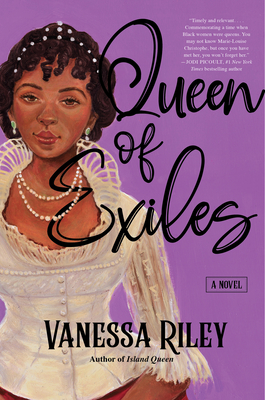 Queen of Exiles: A Novel
Publication Date:
July 11th, 2023
Publisher:
William Morrow
Usually Ships in 1 to 5 Days
Description
"You may not know Marie-Louise Christophe but once you have met her, you won't forget her. Vanessa Riley's historical novel feels timely and relevant, commemorating a time when Black women were queens." —Jodi Picoult, #1 New York Times bestselling author
Acclaimed historical novelist Vanessa Riley is back with another novel based on the life of an extraordinary Black woman from history: Haiti's Queen Marie-Louise Christophe, who escaped a coup in Haiti to set up her own royal court in Italy during the Regency era, where she became a popular member of royal European society. 
The Queen of Exiles is Marie-Louise Christophe, wife and then widow of Henry I, who ruled over the newly liberated Kingdom of Hayti in the wake of the brutal Haitian Revolution.
In 1810 Louise is crowned queen as her husband begins his reign over the first and only free Black nation in the Western Hemisphere. But despite their newfound freedom, Haitians still struggle under mountains of debt to France and indifference from former allies in Britain and the new United States. Louise desperately tries to steer the country's political course as King Henry descends into a mire of mental illness.
In 1820, King Henry is overthrown and dies by his own hand. Louise and her daughters manage to flee to Europe with their smuggled jewels. In exile, the resilient Louise redefines her role, recovering the fortune that Henry had lost and establishing herself as an equal to the kings of European nations. With newspapers and gossip tracking their every movement, Louise and her daughters tour Europe like other royals, complete with glittering balls and princes with marriage proposals. As they find their footing—and acceptance—they discover more about themselves, their Blackness, and the opportunities they can grasp in a European and male-dominated world.  
Queen of Exiles is the tale of a remarkable Black woman of history—a canny and bold survivor who chooses the fire and ideals of political struggle, and then is forced to rebuild her life on her own terms, forever a queen.
"A sweeping look at the political, social, and romantic intrigue surrounding Haiti's first and only queen. Riley's depiction is richly imagined and wholly original." — Fiona Davis, New York Times bestselling author of The Magnolia Palace
"Queen of Exiles is the riveting account of Marie-Louise Christophe, Haiti's first and only Queen. Bold, ambitious, historically sound and beautifully told."--Sadeqa Johnson, New York Times bestselling author of The House of Eve
Praise for Queen of Exiles: A Novel
"You may not know Marie-Louise Christophe but once you have met her, you won't forget her. Vanessa Riley's historical novel feels timely and relevant, commemorating a time when Black women were queens." — Jodi Picoult, #1 New York Times bestselling author
"Full of intrigue, scandal, and romance…Highlights the life of a notable Black woman, Queen Marie-Louise of Haiti."   — Good Morning America
"A sweeping look at the political, social, and romantic intrigue surrounding Haiti's first and only queen. Riley's depiction is richly imagined and wholly original." — Fiona Davis, New York Times bestselling author of The Magnolia Palace
"Queen of Exiles is the riveting account of Marie-Louise Christophe, Haiti's first and only Queen. Bold, ambitious, historically sound and beautifully told." — Sadeqa Johnson, New York Times bestselling author of The House of Eve
"Fans of Regency romances and stories of strong Black women will find Haiti's Queen Marie-Louise irresistible." — Kirkus Reviews
"Riley's inventive and vivid depiction of a vital piece of Haitian history is well researched and absorbing. Queen Marie-Louise will enchant readers."   — Library Journal
"From the very first page, I was drawn into the Kingdom of Hayti and into the life of Marie-Louise Christophe. This book is majestic from the characters that were so well written it seemed as if 1 could feel each one's heartbeat, to the travel between the decades where I felt the joy of her triumphs as the queen, to the pain of her exile. Queen of Exiles is one novel that you will never want to put down. It should be required reading." — Victoria Christopher Murray, New York Times bestselling author of The Personal Librarian
"A gripping tale of triumph and tragedy. . . The immensely talented Vanessa Riley traces the little-known yet crucially important life of this real-life, nineteenth-century woman, immersing readers in Queen Louise's inspiring history. A tour de force!" — Marie Benedict, New York Times bestselling author of The Mitford Affair
"Riveting and transformative…evocative and immersive...by turns vibrant and bold and wise…discovering Dorothy's story is a singular pleasure." — New York Times Book Review (Editors' Choice) on Island Queen
"Dazzling...compelling...Riley combines in-depth research with passionate and frank storytelling, The experiences and achievements of powerful women, especially those whose lives began among the enslaved, are too often overlooked, and Riley's richly engaging novel is a ringing reminder of how much we miss when these stories remain untold." — Booklist on Island Queen
"This book is not only a one-sitting read, it's a slice of history that needs to be told. Utterly brilliant, powerful, and inspiring." — Kristan Higgins, New York Times bestselling author, on Sister Mother Warrior
"An impeccably researched, powerfully reimagined tale of sacrifice and success, love and selfishness, and war and independence...Riley's storytelling skills shine." — Atlanta Journal-Constitution on Sister Mother Warrior
"Sweeping, powerful...Riley has written a well-researched gripping novel about an enslaved people gaining freedom, with the emotional connections among the main players as its beating heart." — Library Journal (starred review) on Sister Mother Warrior