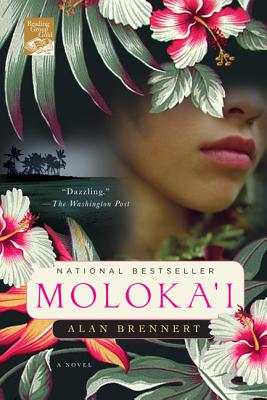 Moloka'i: A Novel
Publication Date:
October 4th, 2004
Publisher:
St. Martin's Griffin
Usually Ships in 1 to 5 Days
Description
This richly imagined novel, set in Hawai'i more than a century ago, is an extraordinary epic of a little-known time and place---and a deeply moving testament to the resiliency of the human spirit.
Rachel Kalama, a spirited seven-year-old Hawaiian girl, dreams of visiting far-off lands like her father, a merchant seaman. Then one day a rose-colored mark appears on her skin, and those dreams are stolen from her. Taken from her home and family, Rachel is sent to Kalaupapa, the quarantined leprosy settlement on the island of Moloka'i. Here her life is supposed to end---but instead she discovers it is only just beginning.
With a vibrant cast of vividly realized characters, Moloka'i is the true-to-life chronicle of a people who embraced life in the face of death. Such is the warmth, humor, and compassion of this novel that "few readers will remain unchanged by Rachel's story" (mostlyfiction.com).
About the Author
Alan Brennert is a novelist, screenwriter, and playwright. He grew up in New Jersey but moved to California in 1973. His novel Moloka'i was a national bestseller and a One Book, One San Diego selection for 2012. It also received the Bookies Award, sponsored by the Contra Costa Library, for the 2006 Book Club Book of the Year. His next novel, Honolulu, won First Prize in Elle Magazine's Literary Grand Prix for Fiction and was named one of the best books of 2009 by The Washington Post. Of his novel Palisades Park, People Magazine said: "Brennert writes his valentine to the New Jersey playground of his youth in Ragtime-style, mixing fact and fiction. It's a memorable ride."
His work as a writer-producer for the television series L.A. Law earned him an Emmy Award and a People's Choice Award in 1991. He has been nominated for an Emmy on two other occasions, once for a Golden Globe Award, and three times for the Writers Guild Award for Outstanding Teleplay of the Year.
Alan's short story"Ma Qui" was honored with a Nebula Award in 1992. His story "Her Pilgrim Soul" was adapted by Brennert himself for the Alan Menken musical Weird Romance in 1992.
His novel, Daughter of Moloka'i is a follow-up to Moloka'i that tells the story of Rachel Kalama's daughter Ruth, her early life, her internment during World War II, and her eventual meeting with her birth mother, Rachel. The novel explores the women's 22-year relationship, only hinted at it in Moloka'i.
Praise for Moloka'i: A Novel
"A dazzling historical novel." —The Washington Post
"Moloka'i is a haunting story of tragedy in a Pacific paradise." —Robert Morgan, author of Gap Creek
"Alan Brennert draws on historical accounts of Kalaupapa and weaves in traditional Hawaiian stories and customs.... Moloka'i is the story of people who had much taken from them but also gained an unexpected new family and community in the process." —Chicago Tribune
"[An] absorbing novel...Brennert evokes the evolution of--and hardships on--Moloka'i in engaging prose that conveys a strong sense of place." —National Geographic Traveler
"Moving and elegiac." —Honolulu Star-Bulletin
"Compellingly original...Brennert's compassion makes Rachel a memorable character, and his smooth storytelling vividly brings early twentieth-century Hawai'i to life." —Publishers Weekly (starred review)
"A stunning story of hope...captivating." —Woman's World
"Captivating." —Never Ending Story