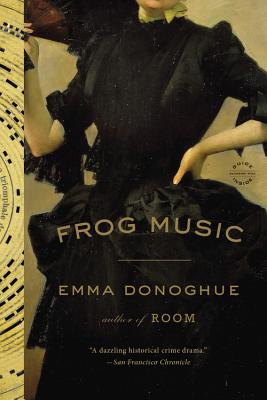 Frog Music
Publication Date:
February 24th, 2015
Publisher:
Back Bay Books
Donoghue writes my favorite historical fiction. She has a knack for that great alchemy of turning research -- letters, family trees, and newspaper articles buried in archives -- into fiction that lives and breathes on the page. Frog Music, a vivid, atmospheric crime novel, brings to life the roiling streets of San Francisco just after the Gold Rush. The story of Blanche and her murdered friend, Jenny, which is based on true events, has a frantic pulse that makes it hard to put down. This is the kind of book only Donoghue could write, and I'm so glad she did
April 2014 Indie Next List
Description
From the New York Times bestselling author of Room, a young French burlesque dancer living in San Francisco is ready to risk anything in order to solve her friend's murder—but only if the killer doesn't get her first.
Summer of 1876: San Francisco is in the fierce grip of a record-breaking heat wave and a smallpox epidemic. Through the window of a railroad saloon, a young woman named Jenny Bonnet is shot dead.
The survivor, her friend Blanche Beunon, is a French burlesque dancer. Over the next three days, she will risk everything to bring Jenny's murderer to justice—if he doesn't track her down first. The story Blanche struggles to piece together is one of free-love bohemians, desperate paupers, and arrogant millionaires; of jealous men, icy women, and damaged children. It's the secret life of Jenny herself, a notorious character who breaks the law every morning by getting dressed: a charmer as slippery as the frogs she hunts.
In thrilling, cinematic style, Frog Music digs up a long-forgotten, never-solved crime. Full of songs that migrated across the world, Emma Donoghue's lyrical tale of love and bloodshed among lowlifes captures the pulse of a boomtown like no other.
"Her greatest achievement yet . . . Emma Donoghue shows more than range with Frog Music—she shows genius." —Darin Strauss, author of Half a Life.
Praise for Frog Music
"A riveting literary thriller.... Donoghue brilliantly conjures the chaos of a boomtown in the grip of both a heat wave and a smallpox epidemic; her cast of colorful lowlifes includes the freeloading Arthur and his sycophantic best friend, Ernest. But it's Blanche and Jenny who hold our attention.... FROG MUSIC begins with a mystery: Who killed Jenny? But it enthralls with two other questions: Who was Jenny? Who will Blanche become?"—Karen Holt, O, The Oprah Magazine
"FROG MUSIC...[brings] to steamy life the unresolved so-called San Miguel Mystery.... Donoghue front-loads the ­drama.... She captures San Francisco in all its ­melting-pot, fishy-smelling glory, and weaves in authentic ­details about smallpox outbreaks, race riots, and orphan­ages. ­Jenny Bonnet is an incendiary character pulled directly from the history books.... Her extraordinary life gives Donoghue's novel contemporary resonance."—Elyse Moody, Elle
"More fine work from one of popular fiction's most talented practitioners.... Donoghue's vivid rendering of Gilded Age San Francisco is notable for her atmospheric use of popular songs and slang in Blanche's native French, but the book's emotional punch comes from its portrait of a woman growing into self-respect as she takes responsibility for the infant life she's created."—Kirkus Reviews
"Emma Donoghue shows more than range with FROG MUSIC-she shows genius. Like and unlike her stunning ROOM, this novel lifts into view a strange crime, a remarkable woman, and is a Ringling Brothers-grade feat of narrative strength. As ever, Donoghue focuses on people on the skirts of the world, who make their way outside the common middle of things. Blanche and Jenny are characters you will never forget, filmed in vibrant, cinemascope prose, and they mark Emma Donoghue's greatest achievement yet."—Darin Strauss, author of Half a Life
"Donoghue's first literary crime novel is a departure from her bestselling Room, but it's just as dark and just as gripping as the latter.... Aside from the obvious whodunit factor, the book is filled with period song lyrics and other historic details, expertly researched and flushed out.... Donoghue's signature talent for setting tone and mood elevates the book from common cliffhanger to a true chef d'oeuvre."—Gabe Habash, Publishers Weekly (Starred Review)
"Donoghue flawlessly combines literary eloquence and vigorous plotting in her first full-fledged mystery, a work as original and multifaceted as its young murder victim.... An engrossing and suspenseful tale about moral growth, unlikely friendship, and breaking free from the past."—Sarah Johnson, Booklist (Starred Review)
"Donoghue's evocative language invades the senses.... Readers won't quickly forget this rollicking, fast-paced novel, which is based on a true story and displays fine bits of humor with underlying themes of female autonomy and the right to own one's sexual identity."—Library Journal (Starred Review)
"Donoghue proves herself endlessly inventive....[She] nails both the period details and the atmosphere-think sweltering heat waves, dumping grounds for unwanted babies, and smallpox epidemics. This is the kind of book that will keep you up at night and make you smarter."—Julie Buntin, Cosmopolitan
"[An] offbeat, high-minded whodunit from the award-winning author of Room."—Adam Rathe, DuJour
"A historical narrative set in San Francisco in 1876.... [that] provides further proof that Ms. Donoghue is an unusually versatile writer."—New York Observer
"The Room author's latest novel, about a woman solving her friend's murder in 1876 San Fran, sucks you in."—Megan Angelo, Glamour
"Research and invention together mark FROG MUSIC with the ring of truth and salvage a fascinating story from the ether of history."—Ellen Wernecke, A.V. Club
"Like Room...Donoghue here displays an uncanny knack for telling an off-putting story in such a way that you can't stop reading it, that you fall a little bit in love with the characters and the moment in time she's creating."—Moira Macdonald, Seattle Times
"Unmissable-a novel bound to be one of the most talked about of the year."—Daniel Lefferts, Bookish
"Donoghue...devises an ingeniously plotted revision to the official story of why Jenny died-true to her sustained, career-long effort to read history slant and thereby set the record straight."—Mike Fischer, Milwaukee Journal Sentinel
"It's in the tentative moments of love between Blanche and P'tit that FROG MUSIC is at its best-heartfelt, affecting, and real. Donoghue is so gifted at depicting the fraught blessings of motherhood."—Charles Finch, Chicago Tribune
"With rich, well-researched details, Donoghue evokes a multicultural, rough-and-tumble San Francisco."—USAToday
"A vivid narrative equipped with love, lust, and violence, questionable morals, period folk tunes, an eclectic band of characters, and a quest for justice."—Morgan Ribera, Bustle
"Donoghue's book captures the details of San Francisco through meticulous research. The city is a character itself."—Tony DuShane, San Francisco Chronicle
"Though Donoghue poses the book as a mystery - who killed Jenny Bonnet? - it's equally a celebration of love despite hardships galore, and the rising call of motherhood against near impossible odds."—Alan Cheuse, NPR
"Donoghue masterfully transports readers to an era of dung-covered cobbled roads, unspeakably cruel baby farms, deep suspicion of Chinese immigrants and unruly saloons."—Rasha Madkour, The Associated Press
"Donoghue's latest novel has many facets, all of them fascinating....Colorful French slang and period songs...flow through the novel lyrically, making the era as vital as the plot....[A] vibrant novel."—Connie Ogle, Miami Herald
"A dazzling historical crime drama."—San Francisco Chronicle
"A riveting literary thriller."—Karen Holt, Huffington Post
"Donoghue delivers her best to date.... [She] had us with her novel Room.... But in her latest, she outdoes herself. She leaves behind her familiar, her trusted ways and dishes up something bold, raw-ish and fabulously fun-whilst maintaining a very serious and noted literary merit."—Daniel Scheffler, Edge
"Vividly rendered.... A page-turner, full of suspense; fans of Room will recognize the dark, gripping tension Donoghue creates so masterfully. But the novel goes far beyond the usual thriller in its nuanced characterizations: Jenny and Blanche are sculpted into living, breathing, feeling individuals, and even minor characters pulse with life."—Patricia Hagen, Minneapolis Star Tribune
"A captivating exploration of female friendship, music, cultural clashes, San Francisco's history, childcare, and the sex trade in the United States."—Sara Rauch, Lambda Literary
"Completely engrossing, readable, and fascinating on several levels."—Bethanne Patrick, Washingtonian
"Donoghue's latest novel has many facets, all of them fascinating.... Like her hair-raising best-seller Room, it incorporates the elements of a thriller; in fact, there's enough puzzle here to qualify as a full-blooded mystery. Best of all, there's Donoghue's intricate examination of women in impossible circumstances, bound to repugnant men for survival but never broken by them.... Colorful French slang and period songs...flow through the novel lyrically, making the era as vital as the plot. Donoghue is acrobatic with her storytelling and language and paints the stinking city vividly.... [A] vibrant and remarkable novel."—San Jose Mercury News
"An engrossing read."—June Thomas, NY1's "The Book Reader"
"A page-turner of a mystery with rich historical texture.... Atop the mystery, Ms. Donoghue masterfully overlays another story about motherhood and obligation, and friendship-even desire-between women. [She] manifests her genius by weaving the two together."—Julie Hakim Azzam, Pittsburgh Post-Gazette
"Where Donoghue excels is in her descriptions of 19th century squalor.... Poignant."—Elizabeth Hand, Los Angeles Times
"Endlessly intriguing.... You'll find yourself enraptured by the intricate plot developments that will keep you revising your version of the action from one hour to the next."—Maude McDaniel, BookPage
"Rich hauls of historical research, deeply excavated but lightly borne.... [An] ingenious telling."—David Kipen, Wall Street Journal
"[An] ebullient mystery..... Donoghue cross-cuts between Blanche's desperate present-time search and scenes from her Technicolor past with showstopping aplomb.... It's all great fun, and so richly atmospheric.... Astonishing details are scattered like party nuts.... Donoghue also provides riotous musical accompaniment for her narrative.... Call it a mind-bendingly original crime novel, or a dazzling historical mystery, but in the end, this is really a book about love-a mother's love for a strange child, for an exotic friend and finally, for herself."—Caroline Leavitt, San Francisco Chronicle
"In Jenny the frog-catcher, Donoghue has resurrected a true original-witty, perceptive, iconoclastic and nearly indomitable."—Kathy Ewing, Cleveland Plain Dealer
"FROG MUSIC is miles away from the traditional who-done-it, and rather more colorful than your mama's historical fiction...[and] should appeal to those who don't mind their history with grit and unflinching details."—Brooke Wylie, Examiner
"Whether the crime is stranger than fiction or simply more colorful than anything a writer would dare to invent, the true story of Jeanne Bonnet is a scandalous delight."—Sara Breselor, 7x7SF
"The authenticity Donoghue brings to her work, something of a signature, lends richness and verisimilitude to the book. FROG MUSIC is a can't-miss work."—Terri Schlichenmeyer, Washington Blade
"As with Room, the book thrives on Donoghue's precisely poignant details.... This is a book to cherish, to share with your friends and book clubs, to buy for every reader on your Christmas list, and to read again in a few years. Adored is not too strong a word to describe my feelings for it. My one wish: Emma Donoghue, could you please write faster?"—Joy Tipping, Dallas Morning News
"Room's eloquent author brings the same sensitivity to this period piece, which explores the unsolved 1876 San Francisco murder of Jenny Bonnet through the eyes of the bohemian friend she left behind."—InStyle
"The setting [Blanche] inhibits is alive, brimming with sin and music."—New Yorker
"Donoghue depicts with feeling the new parent's confusion, anxiety and guilt--not just 'Am I doing the right thing?' but 'Am I feeling the right thing?-.... Respect for the facts lets the book sprawl towards its final revelations. The effect is a rough if vital music, not unlike Blanche's own repertoire."—Adrian Turpin, Financial Times
"Donoghue has a gift for place, for setting, for wringing anxiety and drama out of the spaces her characters occupy, as well as for taking real-life events and rendering them realer and sharper than they were the first time around.... It's a bizarre story through and through, and Donoghue more than does it justice, drawing for the reader a (clearly assiduously researched) world that feels both too strange to be real and too vivid not to be."—Ellen Cushing, East Bay Express
"The perfect highbrow historical murder mystery summer read.... Working from actual historic record, Donoghue...masterfully fleshes out San Francisco's demi-monde of French émigré performers and pimps.... [and her] pacing is exemplary.... FROG MUSIC also makes a case for the return of blatant eroticism to mainstream literature. Blanche Buenon's world is one of sex and prostitution, Jenny's one of subverting her gender expectations, and both women have a charged sexuality that simmers like that summer heat wave under the surface of the novel. Donoghue handles graphic sexual scenes deftly, never compromising the frank and lustful point of view of her main character."—Leigh Baldwin, San Antonio Current