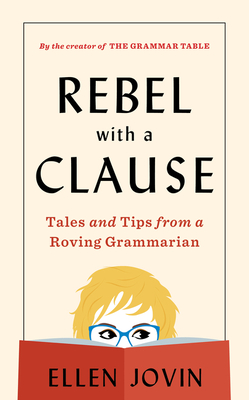 Rebel With A Clause: Tales and Tips from a Roving Grammarian (A Funny Gift for Grammar Lovers)
Publication Date:
July 19th, 2022
Usually Ships in 1 to 5 Days
Description
A Funny Gift for Grammar Lovers
NATIONAL BESTSELLER
"A fresh and democratic take on language by a gifted teacher." —Mary Norris
"[Jovin] never hectors, never finger-points; she enlightens and illuminates. This is lovely work." —Benjamin Dreyer
An unconventional guide to the English language drawn from the cross-country adventures of an itinerant grammarian.
When Ellen Jovin first walked outside her Manhattan apartment building and set up a folding table with a GRAMMAR TABLE sign, it took about thirty seconds to get her first visitor. Everyone had a question for her. Grammar Table was such a hit—attracting the attention of the New York Times, NPR, and CBS Evening News—that Jovin soon took it on the road, traveling across the US to answer questions from writers, lawyers, editors, businesspeople, students, bickering couples, and anyone else who uses words in this world.
In Rebel with a Clause, Jovin tackles what is most on people's minds, grammatically speaking—from the Oxford comma to the places prepositions can go, the likely lifespan of whom, semicolonphobia, and more.
Punctuated with linguistic debates from tiny towns to our largest cities, this grammar romp will delight anyone wishing to polish their prose or revel in our age-old, universal fascination with language.
Praise for Rebel With A Clause: Tales and Tips from a Roving Grammarian (A Funny Gift for Grammar Lovers)
"A delightful, educative journey through some prickly regions of English grammar...Jovin positions herself, convincingly, as not just a linguistic, but an emotional counselor, fostering healthy communication rather than judgement...The invitation she poses in her introduction—'Now, please lie down on a nice couch with this book and let's have some grammar therapy'—is well worth accepting."
— Kirkus Reviews (starred review)
"Jovin uses a combination of intuition and established guidelines to demonstrate that there's almost always more than one correct answer to questions of communication. Along the way, she shares funny anecdotes about the interactions at her booth and how it functioned as an outlet for individuals to passionately express their points of view…Fellow language lovers will enjoy the ride." — Publishers Weekly
"In Rebel with a Clause, Ellen Jovin has given us a street-level view of English grammar and usage, engaging with kids, drunks, cranks, and dads all over this land. From Verdi Square to Venice Beach, Fargo to New Orleans, she brings organization and clarity to every subject she lights on, presiding over the Grammar Table with tact, humility, and irrepressible playfulness. A fresh and democratic take on language by a gifted teacher." — Mary Norris, author of Between You and Me: Confessions of a Comma Queen and Greek to Me
"This is perhaps the most imaginative book ever written about grammar—essentially a series of autobiographical short stories in which the recurring character, Ellen Jovin, plays the educational, charming, and ever-patient protagonist. If you can't stop by her grammar table, stop and buy her book at your favorite bookshop." — Bryan A. Garner, author of Garner's Modern English Usage
"Of all things a jolly grammar book! Curl up and finally take in those niceties of grammar that you always feel like you haven't paid quite enough attention to. Jovin has the gift of making grammar feel like charcuterie instead of medicine—and along the way you also get invaluable randomnesses such as that there are people in Ohio who pronounce 'vigil' as 'vid-ju-al'!" — John McWhorter 
"Those who learn grammatical rules are doomed to repeat them. And, boy, do they repeat them—tirelessly, senselessly, bringing us to the point where much of the English-speaking world thinks grammar is boring or difficult or scary. Ellen Jovin is on a mission to rescue us from that joyless fate. Her generosity and curiosity about language is second only to her generosity and curiosity with the people who approach her for grammatical advice. We could all stand to be a bit more Ellen Jovin." — Lynne Murphy, Professor of Linguistics, University of Sussex, and author of The Prodigal Tongue
"Ellen Jovin is, literally, a public grammarian, doling out advice on myriad fine points of language from behind a folding table ...Jovin shares not only her story as an itinerant language maven but so much first-rate wisdom about everything from the effective wielding of commas to differentiating between 'effect' and 'affect' (to say nothing of 'who' and 'whom') that you may not realize till you finish the book that you've learned so much. And she does it with sweetness and an enviable generosity of spirit. She never hectors, never finger-points; she enlightens and illuminates. This is lovely work." — Benjamin Dreyer, author of the New York Times bestseller Dreyer's English