Nancy Drew 17: Mystery of the Brass-Bound Trunk (Hardcover)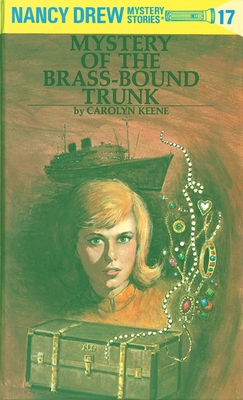 Nancy Drew 17: Mystery of the Brass-Bound Trunk (Hardcover)
$9.99

Unavailable
Other Books in Series
This is book number 17 in the Nancy Drew series.
From the moment Nancy Drew boards an ocean liner leaving for New York, she becomes involved in a new and dangerous mystery. A man on the pier gestures to someone on board in  sign language. BEWARE OF NANCY DREW AND NE, he signals. Who is NE? Can it be Nelda Detweiler, a young woman who shares a cabin with Nancy, Bess, and George?  Mystery and intrigue follow the girls across the ocean; but with her usual ingenuity Nancy solves the mystery and defeats her enemies before the ship reaches New York.
Carolyn Keene is a pen name used by a variety of authors for the classic Nancy Drew Mystery series. The first author to use the pseudonym was Mildred Wirt Benson, who wrote 23 of the original 30 books. Other writers who have adapted the "Carolyn Keene" moniker include Leslie McFarlane, James Duncan Lawrence, Walter Karig, and Nancy Axelrod.