Discounted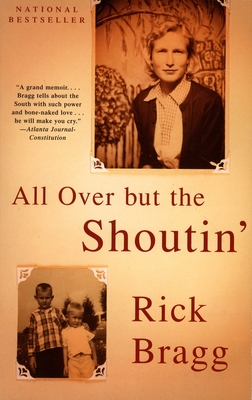 All Over but the Shoutin': A Memoir
Previous price:

$19.00
Current price:

$16.95
Publication Date:
September 8th, 1998
Usually Ships in 1 to 5 Days
Description
NATIONAL BESTSELLER • From the Pulitzer Prize–winner and bestselling author, "a grand memoir.... Bragg tells about the South with such power and bone-naked love ... he will make you cry" (Atlanta Journal-Constitution).

This haunting, harrowing, gloriously moving recollection of a life on the American margin is the story of Rick Bragg, who grew up dirt-poor in northeastern Alabama, seemingly destined for either the cotton mills or the penitentiary, and instead became a Pulitzer Prize–winning reporter for The New York Times. It is also the story of Bragg's father, a hard-drinking man with a murderous temper and the habit of running out on the people who needed him most.
But at the center of this soaring memoir is Bragg's mother, who went eighteen years without a new dress so that her sons could have school clothes and picked other people's cotton so that her children wouldn't have to live on welfare alone.
Evoking these lives—and the country that shaped and nourished them—with artistry, honesty, and compassion, Rick Bragg brings home the love and suffering that lie at the heart of every family. The result is unforgettable.
Praise for All Over but the Shoutin': A Memoir
A New York Times Notable Book 
"A grand memoir.... Bragg tells about the South with such power and bone-naked love...he will make you cry." —Atlanta Journal-Constitution
"Part memoir, part confession, [this book] has everything to do with the South and nothing at all.... Like all good writing, it transcends the particulars of time and place." —Raleigh News & Observer
"A record of a life that has been harrowing, cruel and yet triumphant, written so beautifully he makes the book a marvel." —Los Angeles Times
"A deeply affecting book.... Bragg captures the rhythms of small-town life with grace and pathos." —Chicago Tribune