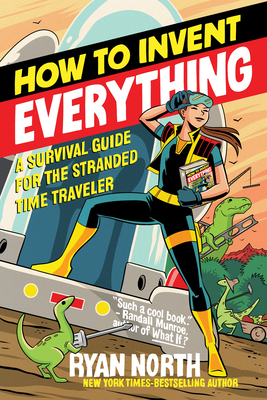 How to Invent Everything: A Survival Guide for the Stranded Time Traveler
Publication Date:
September 17th, 2019
Publisher:
Riverhead Books
Usually Ships in 1 to 5 Days
Description
"How to Invent Everything is such a cool book. It's essential reading for anyone who needs to duplicate an industrial civilization quickly." --Randall Munroe, xkcd creator and New York Times-bestselling author of What If?
The only book you need if you're going back in time
What would you do if a time machine hurled you thousands of years into the past. . . and then broke? How would you survive? Could you improve on humanity's original timeline? And how hard would it be to domesticate a giant wombat?
With this book as your guide, you'll survive--and thrive--in any period in Earth's history. Bestselling author and time-travel enthusiast Ryan North shows you how to invent all the modern conveniences we take for granted--from first principles. This illustrated manual contains all the science, engineering, art, philosophy, facts, and figures required for even the most clueless time traveler to build a civilization from the ground up. Deeply researched, irreverent, and significantly more fun than being eaten by a saber-toothed tiger, How to Invent Everything will make you smarter, more competent, and completely prepared to become the most important and influential person ever. You're about to make history. . . better.
Praise for How to Invent Everything: A Survival Guide for the Stranded Time Traveler
"Technically, we are all time travelers and we are all trapped. So, even if you happen to be scanning this blurb in what you perceive to be a 'normal' timeline, I heartily recommend you read this book cover to cover." —Zach Weinersmith, creator of Saturday Morning Breakfast Cereal and author of Soonish
"Brilliant conceit. . . . a slyly funny piece of popular science writing." —Glen Weldon, NPR's Great Reads of 2018
"Hilarious and endlessly fascinating . . . For the vast general population that might decide to trust their lives to the FC3000, this book is potentially invaluable (and mighty entertaining) one-stop-shop for everything you need to know about life, the universe, and the fly wheel." —Christian Science Monitor 
"Ryan North's latest is a handy guide for what to do if you get stuck in the Stone Age…The manual stands well on its own, even if you'll never set foot in a time machine." —Popular Mechanics
"An entertaining and informative survey of Big History . . . worth holding on to even if we never do figure out time travel." —Toronto Star
"A hilarious and practical guide." —Atlas Obscura
"The scale of How to Invent Everything is downright encyclopedic, and the voice, on every page, bubbles with humor. Reading it brought me back to all the afternoons I'd spent as a kid flipping through the big reference books in my local library, and then eagerly running home to tell anyone who'd listen what I'd learned. One of this book's great achievements is the way it so gracefully combines scholarly rigor with youthful wonder." —Electric Literature    
"How to Invent Everything is a genuinely entertaining bit of pop science writing, a brief history of human civilization with a wicked sense of humor and sci-fi set-up that make it as fun as it is informative. It's an essential read for would-be time travelers as well as anyone who really wants to know all the various uses for an alpaca." —Barnes & Noble Blog
"I recommend this to any time traveler or world builder who is in the market for a fresh civilization. This is certainly one of those 'better to have and not need rather than need and not have' books, folks. So run out and grab this." —Geeks of Doom  
"A must-read for any potential time traveler." —Unbound Worlds
"Stranded in a past century? Not to worry! Here's the entertaining and sometimes even hilarious book that will tell you everything you need to know." – Christian Science Monitor
"A dazzling piece of work that's also genuinely hilarious." —Elan Mastai, author of All Our Wrong Todays
"A witty pop science guide intended for those demanding times when one needs to create a civilization from scratch... wry humor keeps the discussion lighthearted. North's 'survival guide' is a fun, thoughtful, and thoroughly accessible reference for curious readers, students, and world-builders, as well as wayward time travelers." —Publishers Weekly (starred review)
"Packed with cool, fun, and useful stuff... a friendly and thought-provoking reference, just the thing for the bright kid in the family, to say nothing of the neighborhood time traveler." —Kirkus Reviews