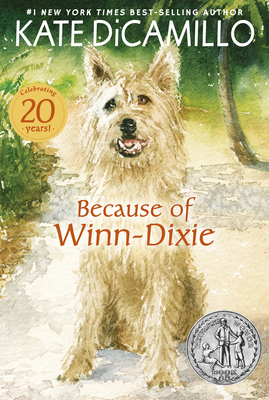 Because of Winn-Dixie
This product is not returnable.
Publication Date:
December 8th, 2015
Description
A classic tale by Newbery Medalist Kate DiCamillo, America's beloved storyteller.
One summer's day, ten-year-old India Opal Buloni goes down to the local supermarket for some groceries – and comes home with a dog. But Winn-Dixie is no ordinary dog. It's because of Winn-Dixie that Opal begins to make friends. And it's because of Winn-Dixie that she finally dares to ask her father about her mother, who left when Opal was three. In fact, as Opal admits, just about everything that happens that summer is because of Winn-Dixie. Featuring a new cover illustration by E. B. Lewis.
Praise for Because of Winn-Dixie
This well-crafted, realistic, and heartwarming story will be read and reread as a new favorite deserving a long-term place on library shelves.
—School Library Journal (starred review)
 
Brush strokes of magical realism elevate this beyond a simple story of friendship to a well-crafted tale of community and fellowship, of sweetness, sorrow, and hope.  And it's funny, too.  A real gem.
—Kirkus Reviews (starred review)
 
...[E]xquisitely crafted first novel. Each chapter possesses an arc of its own and reads almost like a short story in its completeness; yet the chapters add up to much more than a sum of their parts. . . This bittersweet tale of contemporary life in a small Southern town will hold readers rapt.
—Publishers Weekly (starred review)
 
The books' truthfulness is what makes it so powerful. People can identify with the fact that everyone sort of isolates themselves because of a misconnection or a loss or whatever is in their lives.
—Newsday
 
Poignant and delicately told.
—The New York Times Book Review
 
It's the kind of book people love and tell their friends to read.
—Washington Post
 
A gentle book about good people coming together to combat lonliness and heartache—with a little canine assistance.
—The Horn Book Guide
 
A tale not just about a dog found in a grocery store; it's also about the healing power of truth.
—Boston Globe