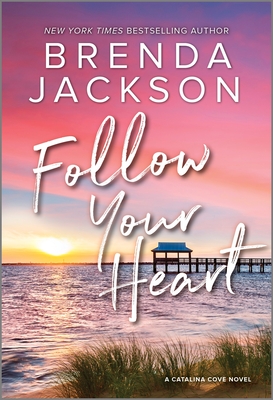 Follow Your Heart (Catalina Cove #4)
Publication Date:
April 27th, 2021
Description
"Brenda Jackson writes romance that sizzles and characters you fall in love with."--Lori Foster, New York Times bestselling author
Some things shouldn't be left to chance...
Victoria Madaris is next on her great-grandmother's matchmaking list--which suits her just fine. She's laser-focused on her career and doesn't have time to concentrate on her love life, too. Knowing that Mama Laverne is vetting unsuitable candidates--like rising US senator Roman Malone--makes things easy.
But Roman unexpectedly ticks all of Victoria's boxes. The longtime family friend is outrageously sexy, and every time they meet, their chemistry crackles. Being a journalist, though, Victoria just doesn't trust politicians. Plus, her matchmaker's expert opinion keeps pointing to the charming and handsome Tanner Jamison. And everybody knows, Mama Laverne is never wrong.
Suddenly, Victoria sees Tanner everywhere--as if by fate--but she doesn't feel any attraction. Meanwhile, the more Victoria gets to know Roman, the harder it is to resist him. Her head is saying play it safe, but is her heart strong enough to go against her better judgment...and Mama Laverne's?
Don't miss The House on Blueberry Lane, the next book in The Catalina Cove series by New York Times bestselling author Brenda Jackson
The Catalina Cove series
Book 1: Love in Catalina Cove
Book 2: Forget Me Not
Book 3: Finding Home Again
Book 4: Follow Your Heart
Book 5: One Christmas Wish
Book 6: The House on Blueberry Lane