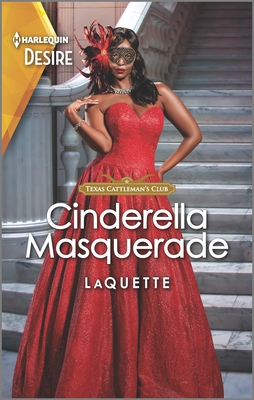 Cinderella Masquerade: A Western Opposites Attract Romance (Texas Cattleman's Club: Ranchers and Rivals #7)
Publication Date:
October 25th, 2022
Publisher:
Harlequin Desire
Description
Is the woman behind the mask the one this rancher's been waiting for? Find out in LaQuette's installment of the Texas Cattleman's Club: Ranchers and Rivals series.
One dance. One kiss.
One unexpected twist.
After a stunning makeover, Dr. Zanai James barely recognizes herself. The reserved, no-nonsense therapist even dared to kiss rancher Jayden Lattimore in the middle of the dance floor. Though a mask had hidden her identity, Jayden tracks down his mysterious Cinderella, claiming he can't forget her. But Zanai isn't sure about the motives of a dashing man like Jayden, who's never looked twice at her before. With their meddling families causing all kinds of trouble, will Zanai finally go after what she really wants?
From Harlequin Desire: A luxurious world of bold encounters and sizzling chemistry.
You'll be swept away by this bold, sizzling romance, part of the Texas Cattleman's Club: Ranchers and Rivals series:
Book 1: Staking a Claim by Janice Maynard
Book 2: Boyfriend Lessons by Sophia Singh Sasson
Book 3: On Opposite Sides by Cat Schield
Book 4: Rivalry at Play by Nadine Gonzalez
Book 5: Vacation Crush by Yahrah St. John
Book 6: An Ex to Remember by Jessica Lemmon
Book 7: Cinderella Masquerade by LaQuette
Book 8: One Christmas Night by Jules Bennett
Book 9: Rancher After Midnight by Karen Booth.