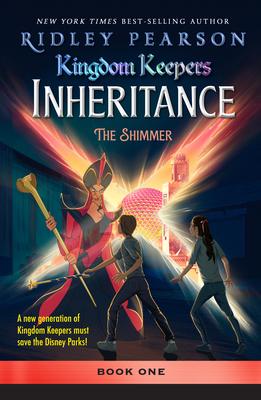 Kingdom Keepers: Inheritance The Shimmer
Publication Date:
February 21st, 2023
Publisher:
Disney Hyperion
Usually Ships in 1 to 5 Days
Description
The first book in a new Kingdom Keepers series.
In the near future, in the Epcot of Walt Disney's imagination, sixty thousand people live in a CommuniTree surrounding the forward-looking Walt Disney World theme park. Five unique families are among the residents—and some of the parents were once known as the Kingdom Keepers. Their identities are carefully guarded in order to raise their children without special treatment, most of the Kingdom Keepers work for the Walt Disney Company, and have settled into "ordinary" and rewarding lives.When a messenger carrying a secret communication coincides with both a solar eclipse and Eli Whitman's thirteenth birthday—a few "ordinary" kids are thrust into a battle to save Epcot and find their friend who has mysteriously disappeared. With their friend missing and their parents acting strangely, the Kingdom Kids discover they are in possession of unusual powers as they forge a bond to rescue their friend and uncover the truth about how real magic has entered their lives.