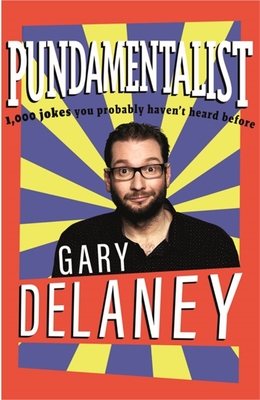 Pundamentalist: 1,000 jokes you (probably) haven't heard before
This product is not returnable.
Publication Date:
August 17th, 2021
Description
'For a collection of good old-fashioned gags, it's one of the best out there, a rich buffet of inventive wordplay that's best savoured a little at a time to fully appreciate the joy of these perfectly-constructed morsels. For original, hilarious gags you'll want to share, this is the real deal.' - Chortle
'A rollicking joyride. . . Pundamentalist has puns for the whole family: rude ones, daft ones, deft ones, stinkers and absolute belters.' - British Comedy Guide
Gary Delaney, one-liner extraordinaire, has appeared on shows like Mock the Week and written for the likes of Jimmy Carr, Jason Manford, and James Corden. Now, for the first time, comes the first collection of his finest jokes. Featuring the likes of:
Garden centres can't reopen fast enough for me, I've been living on borrowed thyme.
We can't even afford a garden, so when my girlfriend bought us a trampoline I hit the roof.
Sure everyone cares about straws killing dolphins now, but they've been breaking camels' backs for years.
Genius is 1% inspiration and 99% perspiration, which explains why Prince Andrew is so stupid.
Sad news: The British simile champion has died. We shall not see his like again.
My mom doesn't trust my dad's secretary. I asked her why, and she just said 'I've seen her type before'.
Today someone told me that I look good with a salt 'n' pepper beard, so I took that as a condiment.
My French pen friend just said 'Le Monde', which means the world to me.
Can anyone tell me what FOMO stands for? Everyone else seems to know.
Actors have got Equity, Magicians have got the Magic Circle, but it's a shame ventriloquists don't have anyone to speak for them.
Does anyone know if it's safe to dye your pubes? It's a bit of a grey area.
And make sure you look out for Gary's next book, about Stockholm Syndrome: it starts off badly but by the end you'll really enjoy it . . .
Praise for Pundamentalist: 1,000 jokes you (probably) haven't heard before
A rollicking joyride. . . Pundamentalist has puns for the whole family: rude ones, daft ones, deft ones, stinkers and absolute belters.—British Comedy Guide
Quirky, silly, super-imaginative one-liners . . . For a collection of good old-fashioned gags, it's one of the best out there, a rich buffet of inventive wordplay that's best savoured a little at a time to fully appreciate the joy of these perfectly-constructed morsels. For original, hilarious gags you'll want to share, this is the real deal.—Chortle