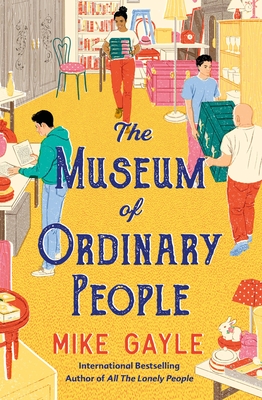 The Museum of Ordinary People
Publication Date:
May 30th, 2023
Publisher:
Grand Central Publishing
Usually Ships in 1 to 5 Days
Description
In this "pure, unadulterated feel-good" and warmhearted novel, an old set of encyclopedias leads a young woman to a curious museum and one profoundly moving lesson: that every life is an extraordinary life (Kirkus).  
BookRiot Most Anticipated Beach Reads of 2023
Shondaland Best Books of May
Still reeling from the sudden death of her mother, Jess is about to do the hardest thing she's ever done: empty her childhood home so that it can be sold.  As she sorts through a lifetime of memories, everything comes to a halt when she comes across something she just can't part with: an old set of encyclopedias.  To the world, the books are outdated and ready to be recycled.  To Jess, they represent love and the future that her mother always wanted her to have. 
In the process of finding the books a new home, Jess discovers an unusual archive of letters, photographs, and curious housed in a warehouse and known as the Museum of Ordinary People.  Irresistibly drawn, she becomes the museum's unofficial custodian, along with the warehouse's mysterious owner.  As they delve into the history of objects in their care, they not only unravel heart-stirring stories that span generations and continents, but also unearth long-buried secrets that lie closer to home.
Inspired by an abandoned box of mementos, The Museum of Ordinary People is a poignant novel about memory and loss, the things we leave behind, and the future we create for ourselves.  
 
About the Author
Mike Gayle was born and raised in Birmingham, UK.  After earning a Sociology degree, he moved to London to become a journalist and ended up as an advice columnist for a teenage girls' magazine before becoming Features Editor for another teen magazine. He has written for a variety of publications including the Sunday Times, the Guardian, and Cosmo. Mike became a full- time novelist in 1997 and has written thirteen novels, which have been translated into more than thirty languages.  After stints in London and Manchester, Mike now resides in Birmingham with his wife, two kids, and a rabbit.
Praise for The Museum of Ordinary People
"This novel is pure, unadulterated feel-good, and Gayle is a master puller of heartstrings... fans of uplifting-lit authors like Fredrik Backman will likely be suitably charmed. Unrelentingly sweet pop fiction."—Kirkus Reviews
"Moving and heartwarming, this is a story about love and loss and holding onto the memories that make us who we are. Fans of character-driven relationship fiction by Clare Pooley, Rachel Joyce, and Freya Sampson will want to pick this one up."
 —Booklist