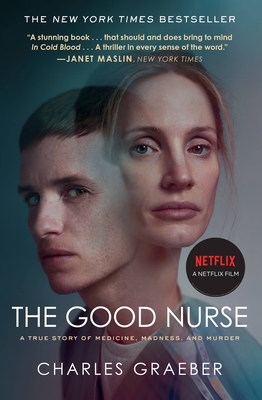 The Good Nurse: A True Story of Medicine, Madness, and Murder
Publication Date:
September 20th, 2022
Usually Ships in 1 to 5 Days
Description
The mesmerizing basis of the movie starring Eddie Redmayne and Jessica Chastain⁠—a "stunning book...that should and does bring to mind In Cold Blood"—takes you inside the mind of America's most prolific serial killer, whose 16-year long "nursing" career left as many as 400 dead. (New York Times)   
 
Edgar Award Nomination, Mystery Writers of America
 
BBC (Top Ten Books of the Year)
 
"The best books I read this year" (top ten books, EW)
—Stephen King
 
"The Best Journalism of the Year.".
—The Daily Beast
 
"The most terrifying book published this year. It is also one of the most thoughtful...call it literary true crime..."
—Kirkus Reviews ("Best Books of the year")
 
After his December 2003 arrest, registered nurse Charlie Cullen was quickly dubbed "The Angel of Death" by the media. But Cullen was no mercy killer, nor was he a simple monster. He was a favorite son, a husband and beloved father, a best friend and a celebrated caregiver. Implicated in the deaths of as perhaps as many as 400 patients, he was also perhaps the most prolific serial killer in American history.
        When, in March of 2006, Charles Cullen was marched from his final sentencing in an Allentown, Pennsylvania, courthouse into a waiting police van, it seemed certain that the chilling secrets of his life, career, and capture would disappear with him. Now, in a riveting piece of investigative journalism nearly ten years in the making, Charles Graeber gives us the unbelievable true story.
        Based on hundreds of pages of previously unseen police records, wire-tap recordings and videotapes and interviews with whistleblowers and confidential informants, and years of exclusive jailhouse conversations with Cullen himself, the homicide detectives who worked against the clock and administrators to try and finally crack the code on Cullen's crimes, and Cullen's fellow nurse Amy, an overworked single mom asked to choose between protecting her friend Charlie and stopping a potential serial killer, The Good Nurse weaves an urgent and terrifying tale of madness, humanity and heroism. 
        Cullen's murderous career in the world's most trusted profession spanned sixteen years and nine hospitals. Time and again he was fired or allowed to resign. But Cullen continued to work and kill, shielded by a hospital system that, by accident or design, successfully protected the institution while failing to protect patients. THE GOOD NURSE is a searing indictment of a crushing and dehumanizing for-profit medical system, and an inspiring human story of the previously unknown individuals who chose to risk their jobs and lives to do the right thing. Mesmerizing and irresistibly paced, this book will make you look at hospitals and the people who work in them in an entirely different way.
Praise for The Good Nurse: A True Story of Medicine, Madness, and Murder
"Put this one on the shelf next to Ann Rule's classic about Ted Bundy, The Stranger Beside Me - it's that good. Grade: A"—Entertainment Weekly
"A stunning book...that should and does bring to mind In Cold Blood....the story appeals to prurient interests, as does any graphic tale of true crime. But THE GOOD NURSE succeeds in being about much more than Mr. Cullen's murderous kinks. The causes of his pathology are not interesting. But the eagerness of ambitious hospital administrators to cover up his misdeeds is revelatory. And the police investigation that brought him down is a thriller in every sense of that word."—Janet Maslin, New York Times
"The most terrifying book published this year. It is also one of the most thoughtful.... From a long series of conversations with Cullen, the detectives who solved the case and Amy, a nurse who once was Cullen's best friend and eventually got him to confess, among many other sources, Graeber has crafted a book that is a revelation. THE GOOD NURSE is gripping, sad, suspenseful, rhythmic and beautifully documented (the endnotes to this book are impressive)."—Kirkus Reviews
"Graeber doesn't pull punches... A deeply unsettling addition to the true crime genre."—Publishers Weekly
"Riveting"—People
"A standout true-crime book, one that doubles as both a thrilling horror story and a cautionary tale, and frightens and frustrates in equal measure."—The Boston Globe
"Absolutely frightening."—The Detroit News
"Alarming"—CNN.com
"The story is consistently incredible, but credit it you must, for it is the truth... I couldn't put this book down."—PopMatters
"Fascinating and frightening... A scary page turner about one man's quiet reign of terror, those dedicated and brave enough to end it, and the dangers that can lurk in the places we may feel safest. "—BookReporter
"A very scary book. It will reach out and grab you and not let you go. You will forgo food, talking, work, anything just to get to the climactic moment of this true crime story."—Pittsburgh Post-Gazette
"Engrossing...hard-to-put-down.. On one level, The Good Nurse is an absorbing story of a serial killer operating within the walls of what most view as a trusted institution. On another, it's an intriguing detective story. And on another it's an indictment of the hospital industry."—The New Jersey Star-Ledger
"A literary thriller with legs... Meticulously crafted... a book that demonstrates the transportive power of literary journalism while simultaneously helping to restore its credibility."—The Brooklyn Rail
"A remarkable new book...gripping and brilliantly written."—Healthcare Risk Management Review
"A gripping look into a killer's mind...THE GOOD NURSE is as suspenseful as any crime novel."—Milwaukee Journal Sentinel