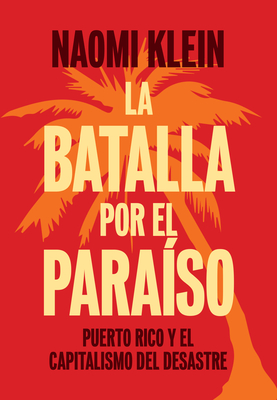 La Batalla Por El Paraíso: Puerto Rico Y El Capitalismo del Desastre
Publication Date:
June 5th, 2018
Publisher:
Haymarket Books
Usually Ships in 1 to 5 Days
Description
Entre los escombros del hurac n Maria, los puertorrique os y los "Puertopians" ultra-ricos est n atrapados en una batalla campal sobre c mo reconstruir la isla. En esta vital y asombrosa investigaci n, la autora de best-sellers y activista Naomi Klein, revela c mo las fuerzas de las pol ticas de "shock" y del capitalismo del desastre, buscan minar la visi n radical y resiliente de una recuperaci n justa.
El cien por ciento de las regal as por la venta de este libro ir n directamente a JunteGente, un espacio de encuentro entre organizaciones en resistencia al capitalismo del desastre y que luchan por una recuperaci n justa y sostenible de Puerto Rico. Para m's informaci n visite http: //juntegente.org/
Naomi Klein es una periodista, columnista, documentalista internacionalmente reconocida por sus best-sellers No Logo: El poder de las marcas, La doctrina del shock: El auge del Capitalismo del desastre, Esto lo cambia todo: El capitalismo contra el clima, y Decir no, no basta.
Klein es uno de los principales corresponsales del The Intercept y colaboradora de la revista The Nation. Es escritora asociada de la Puffin Foundation en The Nation Institute, y su trabajo se publica para diarios progresistas como The New York Times, Le Monde y The Guardian. Klein es miembro de la junta directiva del grupo activista medioambiental 350.org y colaboradora del Leap Manifesto de Canad , una iniciativa para una r pida transici n basada en la justicia de los combustibles f siles. En noviembre de 2016 Klein fue galardonada con el prestigioso Premio de la Paz de Sidney, seg n el jurado del premio, por "inspirarnos a defendernos a nivel local, nacional e internacional exigiendo un nuevo proyecto para cohabitar el planeta respetando los derechos humanos y la igualdad".
Sobre The Intercept
Despu's de que el informante de la NSA Edward Snowden expuso las revelaciones de vigilancia masiva en 2013, los periodistas Glenn Greenwald, Laura Poitras y Jeremy Scahill decidieron lanzar una nueva organizaci n dedicada al tipo de informaci n requerida por esas revelaciones: el periodismo intr pido y audaz. Lo llamaron The Intercept.
Hoy en dia, The Intercept (https: //theintercept.com) es una organizaci n de noticias galardonada, que cubre la seguridad nacional, la pol tica, los libertades civiles, el medio ambiente, los asuntos internacionales, la tecnolog a, el justicia penal, y los medios de comunicaci n. Liderados por la editora Betsy Reed, sus periodistas tienen la libertad editorial para responsabilizar a instituciones poderosas y el apoyo que necesitan para llevar a cabo investigaciones que expongan la corrupci n y la injusticia.
Los colaboradores incluyen a Mehdi Hasan, Naomi Klein, Shaun King, Sharon Lerner, James Risen, Liliana Segura y los co-fundadores Glenn Greenwald y Jeremy Scahill. El fundador y fil ntropo del eBay, Pierre Omidyar, proporcion los fondos para lanzar The Intercept y contin a apoy ndolos a trav's de First Look Media Works, una ONG.