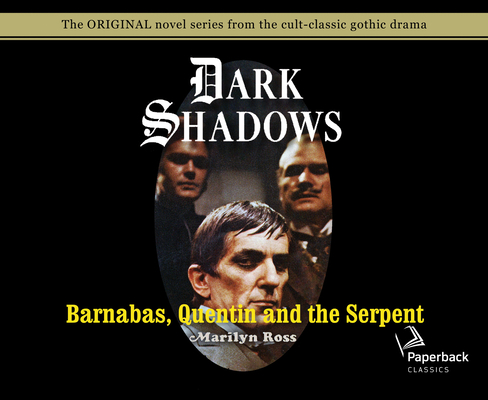 Barnabas, Quentin and the Serpent (Library Edition) (Dark Shadows #24)
Publication Date:
July 13th, 2020
Publisher:
Paperback Classics
Description
Barnabas, Quentin and the Serpent (December 1970)
Professor Gerald Collins returns to Collinwood from an archaeological expedition to Mexico with several crates of animals—giant rats poisonous snakes and rare lizards. His daughter, Irma, turns to Barnabas for help. She fears her father also brought back a Quetzalcoatl, the terrible, cursed feathered serpent of Aztec legend.
 Suddenly, a mysterious murderer strikes at Collinwood, and a feathered serpent is reported flying over the area. The townspeople, already angered by the presence of Barnabas at Collinwood, now demand that Professor Collins turn his specimens over to a zoo before anyone else is killed.
         
 Irma, with the help of Barnabas, tries desperately to clear her father's name, and in doing so, stumbles upon a monster even more dreadful than the Quetzacoatl.