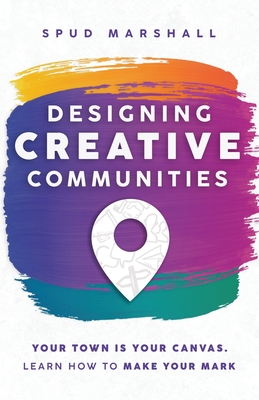 Designing Creative Communities: Your Town Is Your Canvas. Learn How To Make Your Mark
This product is not returnable.
Publication Date:
September 28th, 2021
Publisher:
My Creative Community
Usually Ships in 1 to 5 Days
Description
We all want to be a part of a thriving community. But few of us know how to meaningfully contribute to the places where we live, work, learn and play.
Whether you dream of launching a community innovation center, want to enhance your town with colorful murals, or are simply looking to strengthen relationships with your neighbors, Designing Creative Communities is the guide for you.
Award-winning community builder, Spud Marshall, coaches emerging leaders and community members alike through a simple process for how to transform your town into a creative place to call home. Filled with stories from Spud's work over the past decade, Designing Creative Communities teaches you how to actively create change and have a lot of fun along the way.
The book will introduce you to the CANVAS Framework where you'll learn how to:
Chart your path (and avoid getting an RV stuck in the mud).
Ask probing questions (by jumping into an inflatable ball pit on the street).
Name early adopters (and create a secret society).
Visualize a prototype (while ensuring that bees don't escape into your home).
Articulate your story (using a giant blue chameleon car).
Sustain efforts with partners (without harming a single piano).