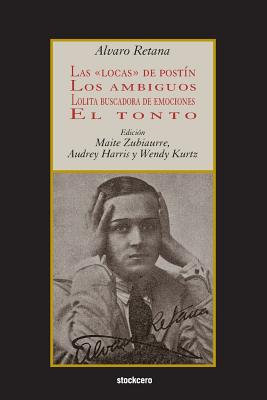 Las locas de postín; Los ambiguos; Lolita buscadora de emociones; El tonto
This product is not returnable.
Publication Date:
January 31st, 2013
Usually Ships in 1 to 5 Days
Description
Alvaro Retana (1890-1970), who many consider The Spanish Petronius, belongs to that lighthearted erotic literature trend popular during the early twentieth Century, that became known in Spain as Sicalipsis (from ancient Greek sykon -fig, or vulva- and aleiptikos -to stimulate). In open opposition to the somber and solemn Spanish '98 generation, and other representatives of the so called high culture, Retana's popular erotic novelettes showcased the smiling and playful face of a country that during the 1920s and 1930s openly embraced European modernity and stood up to its challenges, among them the sexual revolution and explicit eroticism. Alvaro Retana, a flamboyant and openly homosexual artist, illustrator, fashion designer, and renowned composer of cuples (a cuple is a risqu popular song usually sung in variety shows), is also the successful author of many sicaliptic novelettes, among them, the four short novels included in this volume. Retana is one of the first writers who, in Las locas de post n and other openly queer and sexually explicit novels, dare to depict the uninhibited sensuality of a free and happy-go-lucky Spain, soon to die at the hands of the Franco dictatorship. Retana's smiling and festive homoeroticism, clearly a forerunner of Almodovar's and Mendicutti's gay aesthetics, stands in stark contrast to the apocalyptic and pessimistic vision of homosexuality in Alfonso Hernandez-Cata's novel El Angel de Sodoma (Stockcero 2011), a novel, like Retana's fictions, meant to depict the gay underground world of early twentieth century Spain. Retana openly celebrates queer love, as well as the sexuality of women, both homosexual and straight. Novelettes such as Los ambiguos, Lolita buscadora de emociones, and El tonto amply instruct the unabashed tobillera, or Spanish flapper, in the pleasures of Venus. This volume comprises four of Retana's most successful novels, and with the critical foreword and footnotes by Maite Zubiaurre and Audrey Harris gives a clearer view of what the Spanish society was really reading while the high literature obtained all the academic applause.