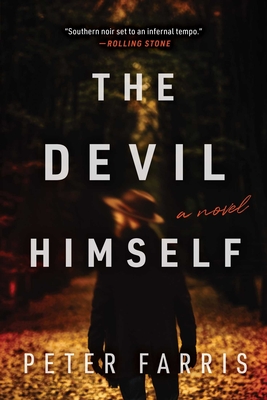 The Devil Himself: A Novel
Publication Date:
May 3rd, 2022
Publisher:
Arcade Crimewise
Usually Ships in 1 to 5 Days
Description
For Fans of Brian Panowich and Ron Rash.
Southern Noir at its finest, The Devil Himself, sizzles with page-burning suspense and bewitching characters. Deep in the forest of South Georgia, barely eighteen-year-old Maya narrowly escapes a savage end. The victim of a vast human trafficking operation managed out of Mexico, Maya had the misfortune to discover the dark plans of a high-ranking client. Her fate seemed sealed, until Leonard Moye, a lonely eccentric who tolerates no one on his land, takes the young woman under his protection. Both having lived lives that have left deep scars, each consumed by anger, they soon develop a bond that makes them, as a pair, a formidable foe, even for hardened criminals and professional scumbags. Maya knows too much and the old man lives on land in the crosshairs of narco machinations. As the heavies seek to finish the job, they find they may be no match for the resourcefulness of a disturbed old man and a cunning young woman.
Written with a skilled combination of breakneck pace and mind-searing detail, Farris has created a wicked and compassionate novel of redemption.
First published in France with enormous critical acclaim and winning multiple literary awards, The Devil Himself will mark Peter Farris as a major crime writer in America as well. 
Praise for The Devil Himself: A Novel
"[A] riveting crime novel...Narrow escapes, violent encounters, and deep Southern culture shape this into an exciting tale. Noir fans will be well satisfied."-- Publishers Weekly
"Learn for yourself what French readers have known for a while now: Peter Farris is a master of hard-nosed Southern noir, a true heir to Larry Brown, Harry Crews, and Tom Franklin. The Devil Himself thunders off the page with beautiful writing and a killer sense of place. It's urgent, triumphant, and unflinching." — William Boyle, author of Shoot the Moonlight Out and City of Margins
"The Devil Himself is a sharp take on a southern gothic fairytale — extra dark and cathartic, just the way I like them."—Louisa Luna, author Two Girls Down and the Alice Vega novels
"This is The Good the Bad and the Ugly on nitrous, Peter Farris has written a southern gothic barn-burner, when an aging ex-moonshiner becomes the protector of a young harlot who holds dirt on a local politician, a host of dirty cops and his enforcers bring an avalanche of violence to end her life, as the story deepens so do the plot twists and dark secrets in this epic tale of greed, drug running, redemption and justice."—Frank Bill, author of Crimes in Southern Indiana, Donnybrook, The Savage and Back to the Dirt
"It's fair to say Farris was one of my original inspirations to become a writer. His follow up, The Devil Himself, and his latest novel The Clay Eaters has made Farris an award-winning household name in France and remains to this day one of the single best crime writers I've ever read."—Brian Panowich, bestselling author of Bull Mountain, Like Lions, and Hard Cash Valley
"A novel of uncompromising power."—Benjamin Whitmer, author of Pike, Cry Father, and Evasion
"Arid lands, loneliness, a strange friendship, Peter Farris' second novel gives life to a singular world. Part Steinbeck in his way of associating misery and the beauty of the world, and like Lehane as a truth-teller for lost souls."—Julie Malaure, LE POINT
"The environment and the atmosphere are vital to the novel…with The Devil Himself, Peter Farris gives us a one-way ticket to south Georgia."—Pascale Frey, ELLE
"A tough, dirty, thrilling page-turner."—Marie Bronzini, FRANCE BLUE
"Peter Farris, with his hard-hitting writing, has found his place among the elite of the current noir landscape." —Yan Lespoux, MARIANNE
"From the very first page Farris sets the tone for a pulsing novel, a blaze akin to Jim Thompson and Larry Brown. The Devil Himself is a radical southern noir set to an infernal tempo." —Philippe Blanchet, ROLLING STONE
"It's pure noir, modern, contemporary, effective, with superb characters and plot."—Michel Dufranne, RTBF - LIVRÉS à DOMICILE
"The Devil Himself is a treat to the noir genre."—Karen Lajon, LE JOURNAL DU DIMANCHE
"A violent and intense thriller."—L'ALSACE
"We discover a beautiful friendship is at the heart of the novel, full of humanity yet nourished by violence."—OUEST FRANCE
"A dark yet captivating story of redemption."—Jean-Paul Guéry, LE COURRIER DE L'OUEST
"A great noir worth devouring!"—VIVRE À PARIS
"Very quickly we find ourselves bewitched by this "Devil"…a wild, enjoyable novel!"—Olivier Bureau, LE PARISIEN
"Peter Farris delivers a thrilling portrait of a violent and corrupt America."—MONACO HEBDO
"With The Devil Himself, a powerful pen is born."—Anne Lessard, LE TELEGRAM
"The coup de force of Gallmeister's Neo-Noir collection, probing a wild, greedy and baroque America."—Francois Angelier, FRANCE CULTURE
 "A novel of magnetic force."—LIBRAIRIE DE PARIS
In praise of Last Call for the Living:
"Gritty and real, Last Call for the Living shows the dark side of rural Georgia's sketchy bars, trailers and snake-handling charismatic churches. As the cops and the villains work equally hard to find Hicklin, they showcase two very different sides of southern society. Readers along for the ride may be shocked and horrified, but never bored." — Shelf Awareness 
"A hair-trigger suspense builds throughout the tale and is given full release in the last third or so of the book, which includes one of the most hair-raising tableaus you are likely to encounter in this or possibly any other year (it takes place in a church) and an agonizingly suspenseful conclusion that you will want to read again and again. Throw in an enigmatic and haunting last paragraph, and you have a book that is going to be on the Top Ten list of anyone who reads it." — Bookreporter
"Last Call for the Living is a debut announcing a serious new talent." — Ransom Notes, The Barnes & Noble Mystery Blog 
"Those who savor violent action will welcome Farris's debut, a bleak crime thriller." — Publishers Weekly 
"A raw and frantic race to an explosive finish in this gritty and fascinating southern noir gem." — Criminal Element 
"All this beautiful craft eventually leads to a hugely exciting climax followed by a denouement that's one of the best I've read in a long, long time..." — Spinetingler Magazine 
"If you like your crime fiction gritty and fast paced, Last Call for the Living marks the promising debut of Peter Farris." — Crimespree Magazine 
"Last Call for the Living is a debut that demands attention." — MysteryPeople 
"A novel this well seasoned, with the rich characterization, tight plotting and poetic prose doesn't happen very often with debut works. Even veteran authors would be hard pressed to outdo this." — Noir Journal 
"All I can say is that we'd better stand aside for this author. The novel is amazing, brilliantly written, as mesmerizing as I've recently experienced." — Over My Dead Body Mystery Magazine 
"I guarantee that there are characters and passages in this prime example of redneck noir that you will remember fifty years from now." — 20SomethingReads 
In praise of The Clay Eaters:
"Peter Farris may be the only writer working who is writing books I wish I could steal for my own. And The Clay Eaters is my favorite of them all." — Benjamin Whitmer, author of Pike, Cry Father, Evasion, and co-author (with Charlie Louvin) of Satan Is Real
"The Clay Eaters will have you falling forward from the first page, a novel that rolls across the hillsides and is as lovely and heartbreaking as a Georgia sunset. Peter Farris knows his people, all the way to the core." — Michael Farris Smith, award-winning author of Blackwood, The Fighter, Desperation Road, Rivers, and The Hands of Strangers
"It's fair to say Farris was one of my original inspirations to become a writer. His follow up, Ghosts In The Field, and his latest novel The Clay Eaters has made Farris an award-winning household name in France and remains to this day one of the single best crime writers I've ever read." — Brian Panowich, bestselling author of Bull Mountain, Like Lions, and Hard Cash Valley
"Peter Farris returns with a wild, explosive and overwhelming novel that left us breathless. Farris probes the human soul with unique talent and describes the natural world with incomparable poetry. Another stroke of the master and an unmissable voice in American literature!"— Librairie Montbarbon
"In the lineage of John Steinbeck and Ron Rash, Peter Farris masters with style the timeless themes of betrayal, duplicity, wandering and redemption. An author to discover!" — Librairie Dialogues 
"The Clay Eaters is a novel that presents all the qualities of the best Southern Gothic." — Bernard d'Epenoux, Télé Z Magazine
"The Deep South in all its suffocating splendor...a powerful narrative of loss, betrayal and friendship." — Frantz Hoëz, L'OBS
"Farris affirms himself as a major writer of Southern Fiction." — Lionel German, SUD OUEST
 "Complex characters, endearing or repulsive, and a rhythmic intrigue...Peter Farris delivers a powerful new novel." — Jean-Marie Wynants, LE SOIR