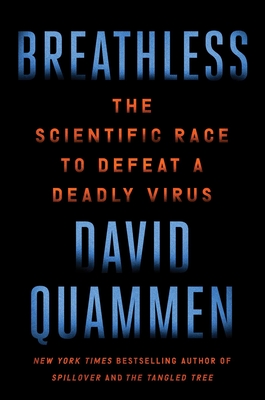 Breathless: The Scientific Race to Defeat a Deadly Virus
Publication Date:
October 4th, 2022
Publisher:
Simon & Schuster
Usually Ships in 1 to 5 Days
Description
National Book Award finalist Breathless tells the story of the worldwide scientific race to decipher the coronavirus SARS-CoV-2, trace its source, and make possible the vaccines to fight the Covid-19 pandemic—a "luminous, passionate account of the defining crisis of our time." (The New York Times).
Breathless is a "gripping" (The Atlantic) but "clear-eyed analysis" (Time) of SARs-CoV-2 and its fierce journey through the human population, as seen by the scientists who study its origin, its ever-changing nature, and its capacity to kill us. David Quammen expertly shows how strange new viruses emerge from animals into humans as we disrupt wild ecosystems and how those viruses adapt to their human hosts, sometimes causing global catastrophe. He explains why this coronavirus will probably be a "forever virus," destined to circulate among humans and bedevil us endlessly, in one variant form or another. As scientists labor to catch it, comprehend it, and control it, with their high-tech tools and methods, the virus finds ways of escape.
Based on interviews with nearly one hundred scientists, including leading virologists in China and around the world, Quammen explains that:
-Infectious disease experts saw this pandemic coming
-Some scientists, for more than two decades, warned that "the next big one" would be caused by a changeable new virus—very possibly a coronavirus—but such warnings were ignored for political or economic reasons
-The precise origins of this virus may not be known for years, but some clues are compelling, and some suppositions can be dismissed
-And much more
Written by "one of our finest explainers of the natural world for decades" (Chicago Tribune), This "compelling and terrifying" (The New York Times) account is an unparalleled look inside the frantic international race to understand and control SARS-CoV-2—and what it might mean for the next potential global health crisis.
Praise for Breathless: The Scientific Race to Defeat a Deadly Virus
"Gripping. . . . Breathless, like the virus it depicts, is a dramatic culmination of an idea that Quammen introduced many of us to in Spillover: that the science story of viral ecology could very easily become the biggest story on planet Earth."
— Joshua Sokol
"Compelling and terrifying. . . . A luminous, passionate account of the defining crisis of our time."
— Michael Sims
"Three years into the pandemic, Mr. Quammen, a prolific science journalist and author, uncovers all sorts of details about the efforts to investigate the spread of Covid and discern the features that made it so menacing. . . . An engagingly written chronicle of scientific inquiry."
— Scott Gottlieb
"Breathless presents the sweeping scientific story of the pandemic, connecting puzzle pieces that at the time had felt so out of place."
— Erin Garcia de Jesús
"A supernova among science journalists and lauded author of The Song of the Dodo and Spillover now tackles the most sprawling news story on the planet, the Covid-19 pandemic. . . . Quammen's narrative finesse is peerless as he meticulously dissects the waves of mass infections, Wuhan to Alpha to Delta to Omicron."
— Oprahdaily.com
"An authoritative new history of Covid-19 and its predecessors. . . . [Quammen] constructs a masterful account of viral evolution culminating in Covid-19. . . . Unsettling global health news brilliantly delivered by an expert."
— Kirkus Reviews (starred review)
"A masterful scientific detective story. . . . Quammen delivers a demanding and essential book about COVID-19."
— Booklist (starred review)
"Science journalist Quammen recounts in page-turning detail the scientific response to the Covid-19 pandemic. . . . A must-read for anyone looking to get a better handle on the pandemic so far."
— Publishers Weekly (starred review)