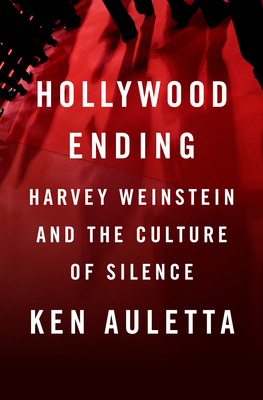 Hollywood Ending: Harvey Weinstein and the Culture of Silence
Publication Date:
July 12th, 2022
Usually Ships in 1 to 5 Days
Description
A vivid biography of Harvey Weinstein—how he rose to become a dominant figure in the film world, how he used that position to feed his monstrous sexual appetites, and how it all came crashing down, from the author who has covered the Hollywood and media power game for The New Yorker for three decades
Twenty years ago, Ken Auletta wrote an iconic New Yorker profile of the Hollywood mogul Harvey Weinstein, who was then at the height of his powers. The profile made waves for exposing how volatile, even violent, Weinstein was to his employees and collaborators. But there was a much darker story that was just out of reach: rumors had long swirled that Weinstein was a sexual predator. Auletta confronted Weinstein, who denied the claims. Since no one was willing to go on the record, Auletta and the magazine concluded they couldn't close the case. Years later, he was able to share his reporting notes and knowledge with Ronan Farrow; he cheered as Farrow, and Jodi Kantor and Megan Twohey, finally revealed the truth.
 
Still, the story continued to nag him. The trail of assaults and cover-ups had been exposed, but the larger questions remained: What was at the root of Weinstein's monstrousness? How, and why, was it never checked? Why the silence? How does a man run the day-to-day operations of a company with hundreds of employees and revenues in the hundreds of millions of dollars, and at the same time live a shadow life of sexual predation without ever being caught? How much is this a story about Harvey Weinstein, and how much is this a story about Hollywood and power?
 
In pursuit of the answers, Auletta digs into Weinstein's life, searching for the mysteries beneath a film career unparalleled for its extraordinary talent and creative success, which combined with a personal brutality and viciousness to leave a trail of ruined lives in its wake. Hollywood Ending is more than a prosecutor's litany; it is an unflinching examination of Weinstein's life and career, embedding his crimes in the context of the movie business, in his failures and the successes that led to enormous power. Film stars, Miramax employees and board members, old friends and family, and even the person who knew him best—Harvey's brother, Bob—all talked to Auletta at length. Weinstein himself also responded to Auletta's questions from prison. The result is not simply the portrait of a predator but of the power that allowed Weinstein to operate with such impunity for so many years, the spiderweb in which his victims found themselves trapped.
Praise for Hollywood Ending: Harvey Weinstein and the Culture of Silence
One of The New Yorker's and Esquire's Best Books of 2022
"A thoughtful, probing book . . . nuanced in ways missing from the screaming-headline revelations of the story as it unfolded . . . the insoluble riddle of how so much good and evil could reside in one man is the abiding mystery that gives this book its fascination. . . . If he had done nothing else, Ken Auletta deserves great credit for forcing his readers to confront the fact that evil does not thrive in a vacuum and that Harvey Weinstein, as bad as he was, had far too much help along the way." —The Daily Beast
 
"Legendary media reporter Auletta was on to Weinstein as a violent bully and abuser in 2002, calling the producer a 'self-absorbed narcissist' in a profile for The New Yorker . . . Auletta's new book has marinated over the years and benefits from 200 interviews to paint a fuller and darker picture of Weinstein . . . Among one of America's keenest observers of power, from Wall Street to Hollywood." —The National Book Review
"Exhaustively reported and utterly enraging, Hollywood Ending is a damning look at Hollywood's history of corruption and complicity." —Esquire
"Excellent . . . The world turned a blind eye, Auletta explains, in large part because of the perception that Weinstein's contributions to the industry outweighed his transgressions." —Bloomberg, The 10 Best Books for Your Summer Reading List
"Longtime New Yorker media reporter Auletta delivers a compelling, assiduously reported, full-formed biography of Weinstein, from his Queens youth all the way to his trial, conviction, and 2020 sentencing . . . A definitive, unblinking account of a tragic chapter in American movie history." —Booklist (starred review)
"Beyond its gripping portrait of a gifted producer, profligate businessman, serial rapist and likely sociopath, Auletta's magisterial account is a definitive report of corruption, commerce and complicity in America's dream factory. Judicious, vivid, utterly engrossing." —Ayad Akhtar, author of Homeland Elegies and winner of the Pulitzer Prize
"It is impossible to read Hollywood Ending without an escalating sense of dread and fury. Ken Auletta offers a riveting account of the ascent and savagely abusive behavior of one of the movie industry's most powerful figures. And he meticulously documents a story that's equally disturbing: the dismal pattern of willful ignorance, complicity and cover-up among film producers, financiers, executives, lawyers, and actors who, with just a bit of courage, could have put a stop to Harvey Weinstein's sociopathic assaults against so many women." —Martin Baron, Executive Editor (Retired), The Washington Post
 
"You think you know everything about the deplorable Harvey Weinstein? You don't. The incomparable Ken Auletta delivers revelation after revelation." —Graydon Carter, editor, Air Mail