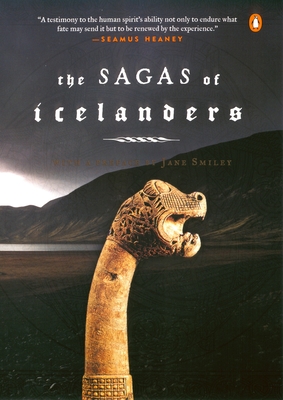 The Sagas of Icelanders: (Penguin Classics Deluxe Edition)
Publication Date:
March 1st, 2001
Publisher:
Penguin Classics
Usually Ships in 1 to 5 Days
Description
A unique body of medieval literature, the Sagas rank with the world's greatest literary treasures--as epic as Homer, as deep in tragedy as Sophocles, as engagingly human as Shakespeare. Set around the turn of the last millennium, these stories depict with an astonishingly modern realism the lives and deeds of the Norse men and women who first settled Iceland and of their descendants, who ventured further west--to Greenland and, ultimately, the coast of North America itself.
The ten Sagas and seven shorter tales in this volume include the celebrated "Vinland Sagas," which recount Leif Eiriksson's pioneering voyage to the New World and contain the oldest descriptions of the North American continent.
For more than seventy years, Penguin has been the leading publisher of classic literature in the English-speaking world. With more than 1,700 titles, Penguin Classics represents a global bookshelf of the best works throughout history and across genres and disciplines. Readers trust the series to provide authoritative texts enhanced by introductions and notes by distinguished scholars and contemporary authors, as well as up-to-date translations by award-winning translators.
Praise for The Sagas of Icelanders: (Penguin Classics Deluxe Edition)
"One of the great marvels of World Literature.... This is a dream come true." --Ted Hughes
"A testimony to the human spirit's ability not only to endure what fate may send it but to be renewed by the experience." --Seamus Heaney
"The glory of the Sagas is indisputable." --Milan Kundera
"Generally excellent, accurate and readable, these translations are sure to become the standard versions." --The Times Literary Supplement (London)