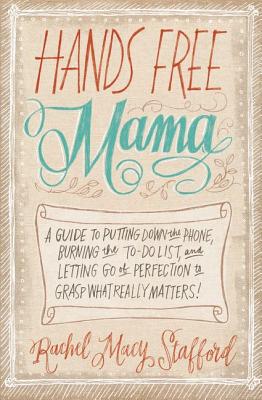 Hands Free Mama: A Guide to Putting Down the Phone, Burning the To-Do List, and Letting Go of Perfection to Grasp What Really Matters!
Publication Date:
January 7th, 2014
Usually Ships in 1 to 5 Days
Description
Discover the power, joy, and love of living a present, authentic, and intentional life despite a world full of distractions.
If technology is the new addiction, then multitasking is the new marching order. We check our email while cooking dinner, send a text while bathing the kids, and spend more time looking into electronic screens than into the eyes of our loved ones. With our never-ending to-do lists and jam-packed schedules, it's no wonder we're distracted.
But this isn't the way it has to be.
Special education teacher, New York Times bestselling author, and mother Rachel Macy Stafford says enough is enough. Tired of losing track of what matters most in life, Rachel began practicing simple strategies that enabled her to momentarily let go of largely meaningless distractions and engage in meaningful soul-to-soul connections.
Finding balance doesn't mean giving up all technology forever. And it doesn't mean forgoing our jobs and responsibilities. What it does mean is seizing the little moments that life offers us to engage in real and meaningful interaction. In these pages, Rachel guides you through how to:
Acknowledge the cost of your distraction
Make purposeful connection with your family
Give your kids the gift of your undivided attention
Silence your inner critic
Let go of the guilt from past mistakes
And move forward with compassion and gratefulness
So join Rachel and go hands-free. Discover what happens when you choose to open your heart--and your hands--to the possibilities of each God-given moment.